Impacts of climate change on biodiversity and ecosystem services in semi-natural, agricultural and urban landscapes and strategies for climate change management (LandKlif)
Work Package 9: Modeling and valuation of ecosystem services under climate change

Introduction
Ecosystem services are essential for the wellbeing of people. Climate change and land use changes might adversely affect the provisioning of ecosystem services. Identification of hotspots/coldspots of different ecosystem services and impact assessments of climate change can help to plan adaptation measures. Furthermore, it is important to consider perceptions of ecosystem services among different societal groups as well as their preferences for adaptation options to enhance planning and implementation of these measures.
Methods
Four different ecosystem services, namely soil erosion regulation, food and feed provisioning, water quality, and water quantity regulation are modeled with the watershed-based Soil and Water Assessment Tool (SWAT) for current and future climate scenarios, spatially explicit for almost the entire area of Bavaria (Fig. 1).
From January to July 2020, we implemented an online survey (Fig. 2) on ecosystem services, perceptions and own experiences of climate change, climate adaptation measures and nature protection among four societal groups: farmers (n=1738), citizens (n=1058), foresters (n=272) and nature managers (n=207, professionals and volunteers).
Results
First modelling results suggest that erosion regulation and freshwater provisioning is generally high in large parts of Bavaria, with local coldspots of low provisioning. These results are currently in the process of being further evaluated. Survey results in figure 3 show that many ecosystem services are highly valued across societal groups. Special importance was given to groundwater quality, pollination and soil fertility. Energy plant production was rated as least important. The group of farmers rated ecosystem services to be a little less important than the other societal groups, except for food and energy plant production. Many respondents stated that they have observed climate change effects on their land. More detailed information on survey results (in German) can be found here.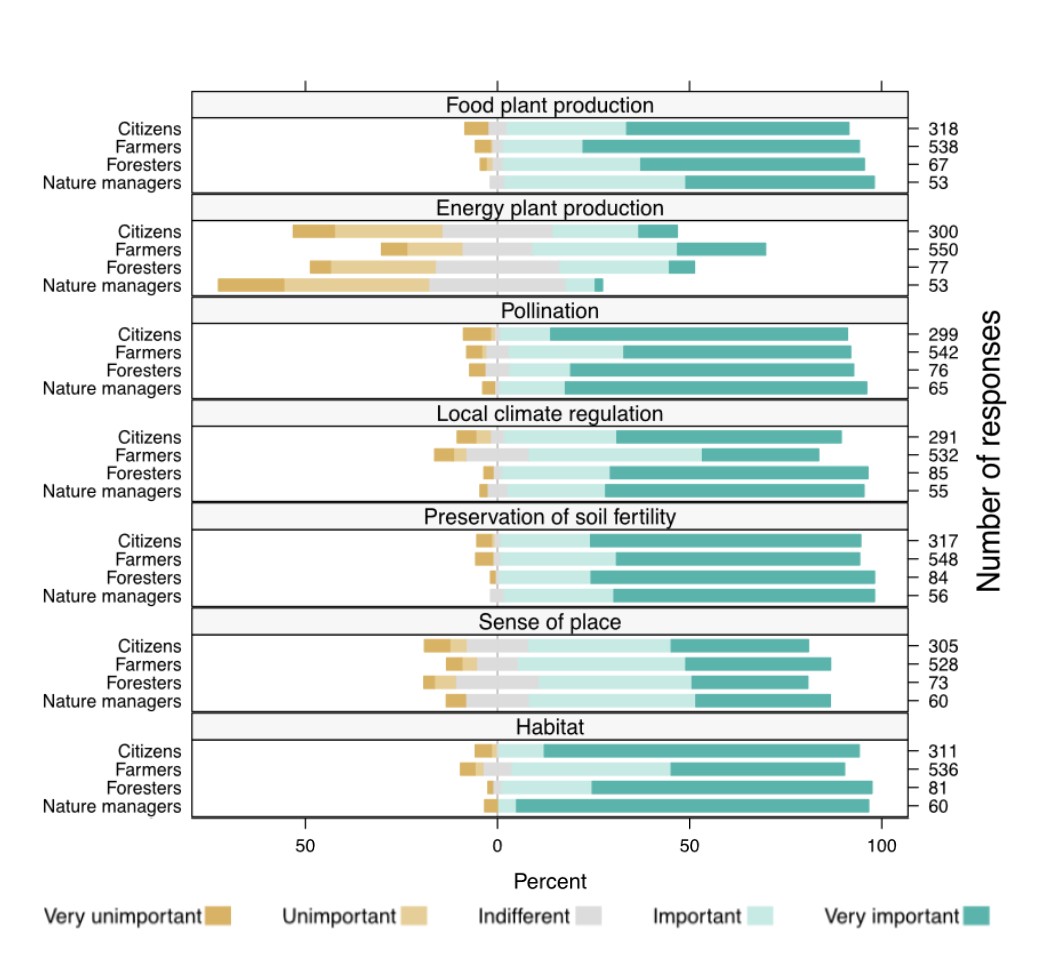 Figure 3: Perception of selected ecosystem services by societal group. Respondents were only shown a random sample of the total of 21 ecosystem services included in the survey, that's why sample sizes vary per response.
Discussion & Conclusion
Our results highlight the importance of ecosystem services across different societal groups. These findings should therefore be considered in future land use planning and climate change adaptation measures. Special recognition should be given to those ecosystem services given the highest ranks.
Modelled ecosystem services and survey results, combined with findings related to ecosystem services of other researchers of the bayklif-Network are presented in the Atlas of ecosystem services in Bavaria [LINK]. With the help of interactive maps, users can identify synergies and conflicts of ecosystem services and impacts of drivers like land use and climate change.